MRI report: no news is good news
Last November I had a followup brain MRI, to see whether anything bad had been silently happening up there during the year that passed since the previous MRI. (See
here<
for my earlier experiences.) Nothing seems to be. My neurologist and I looked through the MRI images carefully; there were three places that, in his opinion, were lesions. Each of them was present on both this year's MRI and the last year's. It's impossible to do precise comparisons, since the slices that the MRI took through the brain were oriented slightly differently; but there wasn't any evident change in any of the lesions, and none of them were gadolinium-enhancing (on either MRI).
The MRI outfit finally dragged themselves into the twentieth century, and gave me a digital copy of the data. Here's a comparison picture of two of the lesions, courtesy of AMIDE<. The picture is in the FLAIR modality, which, of the commonly-used MRI modalities, is the best for looking for MS lesions. The left image is from 2005, and the right image from 2006. You should be able to click on the image to get a 2x larger image, to which I've added a little red X under each lesion: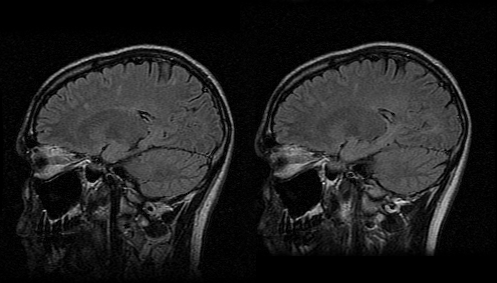 <
I abstained from Flagyli for five weeks prior to the MRI exam, so that anything that did enhance with gadolinium would have meant disease activity rather than inflammationi produced by bacterial die-off due to Flagyl.
Again, these two images aren't directly comparable; for instance, the third lesion is also visible in the 2005 image, but not in this particular 2006 image; but that isn't because it disappeared, but rather because in the 2006 series it's in the next slice, not in this slice.