Anatomy of a Pulse
After about five pulses or partial pulses, I developed a mental model of how I respond to them, which has held up fairly well through the succeeding pulses (of which there have been nine, for a total of fourteen). The overall strength of my responses has diminished with each successive pulse, but the pattern has remained the same, and is as follows.
About three hours after taking a pill of metronidazolei, I start feeling a bit tired. If I stop the pulse there, then the next day I continue to feel fairly tired. (Often, in response, I take a nap, which helps.) Also, during the first few pulses, another effect would start that day: an unpleasant feeling which was nonspecific, and very hard to describe; if it got stronger, it would resolve itself into anxiety. This unpleasant feeling I blame on secondary porphyriai -- partly because anxiety is a typical symptom of porphyria, and partly because that unpleasant feeling always seemed to go along with a very mild abdominal pain, which is another typical symptom.
If I stopped the pulse after the first day, then on the third day I'd feel about the same as I did before the pulse, except still with a bit of the vaguely unpleasant feeling. The fourth day, I'd feel even better -- that is to say, very unusually good. On one occasion, when I was first starting out, I woke up on that day, stretched, and couldn't feel any of my usual mild back pain. In addition found that I was thinking so rapidly and clearly that the thought sprung to my mind: "It will take some time for me to learn how to use my new superpowers wisely." Of course what that really indicated was how low I'd sunk, for how long; in the long term, that thought changed to "It's nice to be back." But on that occasion, the good feeling and the mental ability didn't last long: after another day or two, a delayed reaction set in. It was much milder than the immediate reactions to the pulse, but it lasted much longer: about two weeks. I suppose that the cause of this temporary good feeling is that cells that have been cleared of Cpni function better for a couple of days, then commit apoptosisi; there is then some inflammationi as the apoptotic cells are cleaned up, after which the body does as well as it can without those cells, until replacement cells regrow (which takes quite a while).
Graphed, my mental model of my reactions looks like this, for a single-day pulse: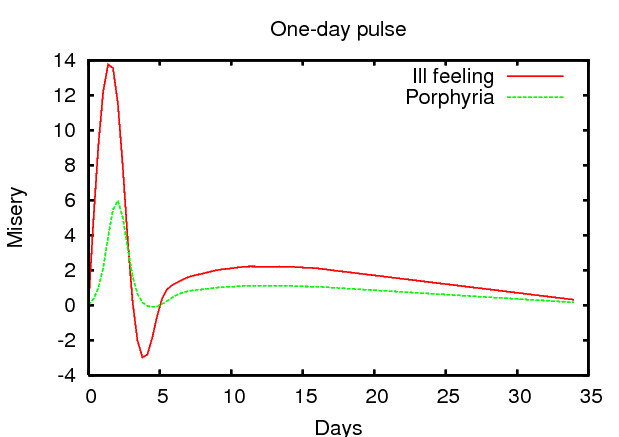 A five-day pulse is like five of those shifted and added together (mathematically, a convolution with the sequence 1,1,1,1,1):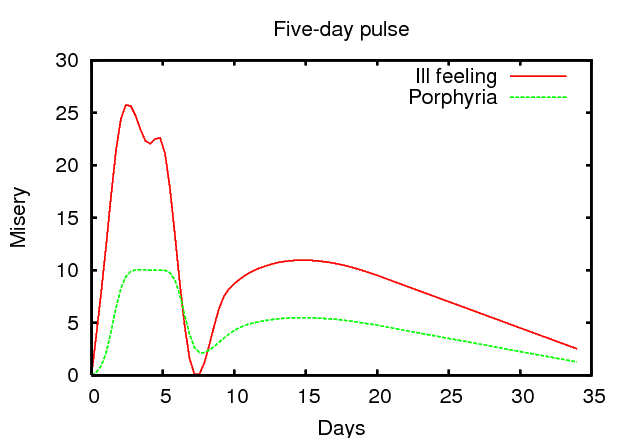 One limitation of the above graphs is that the delayed reaction is a lot less predictable and uniform tham the graphs show. It comes in waves: one day I'll be feeling quite good, then the next tired and a bit anxious (but not vice versa; as in the stock market, improvements are more gradual than declines). Exercise, in particular, seems to prompt a decline, which makes itself felt the next day. (But if I wait until the delayed reaction is over, then exercise no longer does this. I suppose that it's speeding up apoptosis, not causing it where it would otherwise not have occurred). In any case, the delayed-reaction section of the graphs should be regarded as showing not how I feel on any given day, but rather the average of what I might be feeling.
As can be seen on the graph, the improvement that occurs on the fourth day of a one-day pulse is overwhelmed, in a five-day pulse, by the fact that I'm still taking metronidazole on that day. But the two effects don't truly cancel out. What I feel on that fourth day is a strange sort of unquiet energy, amidst a general bad feeling. I have a tendency to break stuff accidentally on that day, and the next. (I normally almost never break things accidentally.)
Another thing the above graphs doesn't show is that the delayed reaction really lasts more than a month: even beyond that point, there is still some of what I suppose is apoptosis and rebuilding, although of a much lower intensity. (Most of the time I've started another pulse on day 25; but I've stretched that interval enough times to know that I continue getting better after that day.) And, as I mentioned, another thing the graphs don't show is that the overall intensity of the reactions has been decreasing with each successive pulse (which I've counterbalanced by taking increasing amounts of medication). The part of the reaction that seems like porphyria has decreased even faster than the general tiredness and ill-feeling.
All this is, of course, just a report of my own experiences. I have made no attempt to incorporate anything anyone else have reported; and some have reported very different experiences.